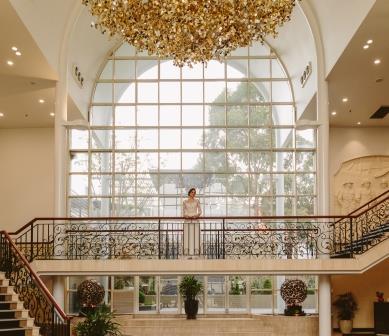 Eschol Park House closes it's doors for renovations
After hearing the news that Eschol Park House has closed for renovations leaving many couples and clients furious and frustrated, our team at the Horloyd Centre is on stand-by to take your call and assist however we can. Phone our team on 8757 9090.

We can certainly empathise with their distress and anguish over loosing their booking at the Eschol Park House Wedding Reception and Function Venue.
A Wedding Day for many is a life-long dream with many Brides already having their hearts set on a particular venue to suit a particular theme/style. Brides with their family and close friends plan
meticulously every fine detail including invitations, bonbonniere, table settings, decorations, flowers, wedding vehicles, honeymoon and many other services such as hair and make-up, just to name a few.

To have their dream shattered with the notice of venue closure is just unimaginable. The cost of a Wedding Reception can range from $5,000 to $50,000 depending on venue and location, catering choices, number of guests and other event details and to add to that the cost of every other service and element that is thrown into the mix of 'The Wedding' including lead-up celebrations and post celebrations the cost alone of one Wedding could equate in some cases to a deposit on an apartment/house or even the cost of a new car.
We know that our venue and staff have a real affection for couples getting married. Our Wedding packages do provide value for money starting with our Essentials Package at $99 per person based on a minimum 90 Adult Guests for a 3-course meal and unlimited beverage package. View our Wedding Packages by clicking here.

The Holroyd Centre can also offer couples a Wedding Ceremony to Wedding Reception solution with our Ceremony to Celebration offer. It would be worth having a look at www.holroydgardens.com to see our beautiful outdoor garden venue with a lovely water feature providing a picturesque setting. Alongside, Holroyd Gardens is the now very popular Brickworks for Wedding Photographs. View our Holroyd Gardens packages, by clicking here.

Furthermore, there is a trend toward having one location for the Wedding Day – Ceremony to Celebration. There are cost saving advantages for couples and conveniences for their guests with only having to travel and park at the one place. The Holroyd Centre's stunning and very grand foyer with majestic wrought-iron staircase and private courtyard, could be that one Wedding place for you!
The Holroyd Centre is Western Sydney's hidden gem. We are a renovated venue with a classy, elegant and timeless look that still has the capacity for a Bride and Groom to splash their personality into their Wedding Day with us!

Phone our team to discuss your Wedding date and Wedding Reception options on 8757 9090. Or send us an email now, by clicking here