Discover one of the best Function Centres in Sydney!
Holroyd Centre Function and Event venue located in Western Sydney, near Parramatta, is capable of hosting inspirational and memorable events.
Through our personalised service we will delight every guest. We are a first-class venue, combining awe-inspiring architectural design with purpose-built functionality and the service excellence of a highly experienced Functions & Events team.
To ensure every Wedding Reception, Engagement, Birthday, Anniversary, Seminar, Meeting, Training, Corporate Event or Cultural Celebration is amazing and each successful, we listen to individual event requirements and apply:
experience and knowledge to help plan and coordinate
creativity and innovation
attention to detail
passion and enthusiasm
culinary creations by our experienced Chefs
Our function and event venue, The Holroyd Centre now boasts a stunning new look courtesy of our major renovation and is a real local gem. You will be amazed from the first steps you take when you enter our venue.
Highlights of the Holroyd Centre include:
• Majestic Wrought Iron Stair Case
• Gold and Silver leaf shimmering chandelier
• Stunning new water feature in the private courtyard
• Dramatic ceiling and lighting feature in the main ballroom
• Upgraded technology facilities in every room
These cosmetic enhancements are accompanied by our dynamic and innovative catering and events team. It's our people that will ensure you and your guests have wonderful memories of your occasion.
The Holroyd Centre is an award winning venue. We truly stand by our creed,
"Large enough to understand your needs, small enough to ensure they are met"
Discover Holroyd Centre and be pleasantly surprised by our convenient location, hospitality and service excellence that will ensure a successful and memorable event every time. Let your celebrations and events take place at our place.
Wonder through our online pages then take a step through our doors and experience Holroyd Centre by taking a private tour with one of our Function and Event Coordinators.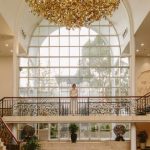 Our HistoryClick Here
Our ServiceClick Here
Our RoomsClick Here
Send an email to our events teamClick Here