Experience our professional and friendly function centre service in Merrylands!
At the Holroyd Centre we pride ourselves on our function and event service promise – "creating a service experience!"
From the moment you meet with us to discuss your event to the time your event ends our hospitality specialists cover every detail so you and your guests can enjoy the special occasion or Corporate Event to its fullest.
What makes the Holroyd Centre function and event service special?
Our event managers hear your vision and together with our planners, decorators, chefs and service staff turn it into a reality.
Everything can be taken care of from theming, décor and supplier selection to menu design, music choice and the master of ceremony.
We know every intricate step involved in delivering elegant and sophisticated functions and events. Whether you come to us for an intimate or large wedding, social event or corporate function we have the experience and staff to meet your needs.
At The Holroyd Centre you can expect service excellence.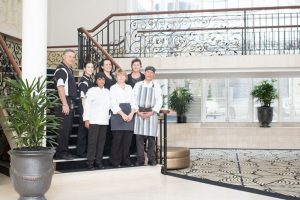 Back to About UsClick Here