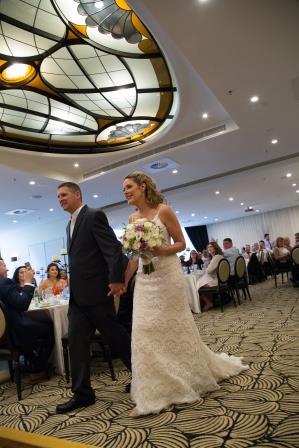 Be inspired to think outside the box when it comes to your Wedding Day and Wedding Planning.
That 'W' word can produce a whole lot of mixed emotions. From the start you are overjoyed and excited for becoming united as one in marriage. Then you start planning, the realisation hits that a Wedding in Sydney can be at times unbelievably expensive and confusing, along with the many options and choices to be made.

So, the flame in your mind and heart for your dream wedding day starts to dwindle and it does not have to! Don't let it…

Your Wedding Day should start with an honest discussion between you and your partner and in many cases each family. Be transparent about your ideas, budget, expectations and who is taking responsibility for what? Or is it just going to be a 50/50 split?
Wedding Planning is important as what you set down at the beginning provides reference to keep you on track throughout the Wedding Planning journey.

Planning is not and does not have to be scary or aggressive. It is a process that should be fun, productive and joyous. Wedding Planning allows you the chance to set and have a common vision, set mutual goals and then assists you, your partner and families to work within your achievable limits. We know that many couples are trying to save for a house/apartment whilst planning a Wedding or are getting married for the 2nd time. Many are in 'Sydney Wedding Shock' just like 'Sydney Housing Pricing Shock'.
Thank you for making it this far! Here is our extensive not exhaustive list of how to achieve a beautiful Wedding Day that creates a wonderful foundation for the start of your marriage. Many of the Wedding on a Budget ideas listed may require you to think about things in a new way or consider options that have not been discussed as yet:

Wedding Planning Ideas:
Have you considered holding your Wedding Ceremony to Wedding Reception at the one Wedding Reception Venue, thus reducing the costs for two separate Wedding Venues, your guests will only need to travel and park at the one place, your cars will only be required for travel from home to Wedding Venue and then a get-away car at the end?

Decrease gaps: If you are having a Church Wedding followed by a Wedding Reception, then have you considered trying to line-up the times, with very little gap between each to cut the costs of your services as the hours required will be less. i.e. photographer/videographer/cars. Plus your guests will be pleased without having to worry about what to do in between large gaps.

Wedding Guest List: this is a tough one, as there are varying values and beliefs in relation to who should be invited and how many to invite to a Wedding. As times change and we are finding a trend toward couples choosing their venue first and then matching the number of guests invited to the capacity of their perfect venue, in other cases, the couple set a number and let each set of parents know how many they can invite and in traditional cases, the couples work with their families expectations and find a venue based on their family needs. We also know that price plays a significant factor in the final decision, the number of guests invited and venue choice. Couples are seeking value for money and what they can afford as opposed to putting themselves into financial difficulties trying to meet the expectations and needs of everyone else instead of what they truly desire. From what we hear and read, many couples when making the final decision on their guest list, simply consider who is dearest and nearest among their family and friends.

Wedding Date: the idea here is to consider a mid-week date Monday – Friday as generally some venues/suppliers will be able to offer a lower price or take advantage of any seasonal offers.

Choose your own Vendors: for this to work you will need to choose a venue that will allow you the freedom and flexibility to work with your preferred Wedding Vendors. For example book your own DJ/MC, provide your own cake, decorations etc. Putting in the time to do your own research and booking suppliers for yourself should always save you money as you are going direct and cutting out the middle-person!

DIY many things: get creative with your invites, in this digital age, can you send your Wedding Invites by text or email and still have a few printed for anyone that may not be tech savvy.

Make your own wedding cake: consider new ideas and be your own Masterchef and reinvent the idea of the traditional Wedding Cake: what about a stack of your favourite cheeses in the full blocks; or layering slices of fruit to form a fresh fruit cake; have fun with it and what about stacking lamingtons or donuts, what about a donut wall or a cupcake tower. Another common option is to have or use the venue's Wedding Display Cake and just purchase a plain slab cake (kitchen cake), that is cut and served on platters per table with tea and coffee! You'll save hundreds!

Accept offers of help and enlist your nearest and dearest! Many times there are people within your circle/network of family and friends that are talented, have time and/or just love to help. They may also have contacts to help you get what you want. Don't be shy, just remember to thank them.

Combining events: This is a tough one, because sometimes it is not easy. Across all cultures and nationalities, Weddings are celebrated uniquely / to their own. Again, we have seen a trend toward families and couples where possible combining events to save time and $$$'s. For example Pre-Weddings and Layliehs or katb al-kitāb and Engagements, Tea Ceremonies combined with traditional western ceremony. Even Bridal Showers and Hens combined as 1 event. Also consider whether an Engagement Party is necessary or do you have something just with your immediate family or an Engagement Party just for your friends as your Wedding will only be family invitation only.

Combining Gifts: for couples that are considering individual place/name-cards, bonbonniere and thank you cards, there are ways to combine all 3 in 1. Consider a thank-you card that has each guests name printed on the front cover and a lovely personalised message on the inside, a chocolate heart or small box/bag of sugar almonds. If you are planning to provide a gift such as bottle opener, candle, wine bottle, photo-frame, again why not have their individual name incorporated with the gift and a thank you note/card. Also have the same gift for everyone, including your bridal party therefore taking advantage on bulk / wholesale prices. Remember to research websites online such as wish.com and ebay.com.

We understand that some of the above Wedding ideas and concepts are possibly too modern and out of the box, but many are worth considering if you are trying to have your dream Wedding and not cost you your house!

Let us know about your Wedding Planning ideas or how you have achieved your dream wedding whilst being savvy?
View our Holroyd Gardens outdoor Wedding Ceremony Packages online by clicking here
View our Holroyd Centre Wedding Reception Packages online by clicking here
Our friendly and professional Wedding and Events team would love to discuss your Wedding Day from Ceremony to Celebration, we are help to help you with your Wedding Planning, phone us on 8757 9090 or email us directly by clicking here