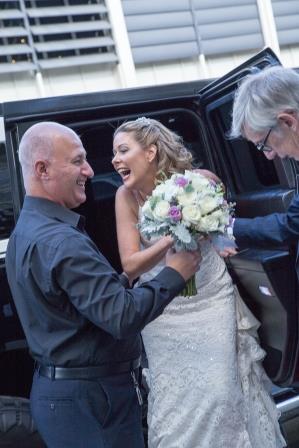 Sarah and Greg's Autumn Wedding
On 1st April 2017 at the Holroyd Centre
Sarah and Greg exchanged vows on the grand staircase in the majestic foyer of the Holroyd Centre on Saturday 1 April 2017. It was a splendid Autumn Day, April Fools Day to be exact, but no fools. Sarah and Greg's Wedding Ceremony was witnessed by family and very close friends and that would set the wheels in motion for a fabulous and fun celebration of love. An evening that was enjoyed by all! 
We fell in love with Sarah and Greg from the moment we met them one windy Saturday afternoon back in September 2016 and just wanted to know more about them and how they went about planning their very special Wedding Day. Please enjoy the read:
1. How did you meet?
We meet on 2nd October 2011 at PJ's Parramatta. I was meeting a friend for a catch up & Greg came with friends after the footy grand Final. Ironically, we both tried hard to cancel our individual night out.
2. How did he/she propose?
Walking along one of our favourite places in Port Macquarie – the break wall by the ocean. He pulled me close and proposed.
3. Tell us more about your day and who helped you:
i. Car Hire – illusion limos (Local at Greystanes)
ii. Flowers – M & A Fresh Cut Flowers, Merrylands
iii. Brides Dress – Sweethearts at Blacktown
iv. Bridal party dresses – Hodress via the internet
v. Grooms Suit – Kelly Country
vi. Groomsmen Suits – Kelly Country
vii. Invitations – Homemade
viii. Make-Up and/or Hair – CJ Unique Hair at Greystanes and Makeup by Meri
ix. Photographer – David Taylor & Guy Salemi
x. Videographer – Guy Salemi
xi. Jewellery – Wedding Bands Adore Jewellers Merrylands
xii. Guest favours – Home made
4. Venue
Ceremony Venue – The Holroyd Centre
Wedding Reception Venue – The Holroyd Centre
EVERY SINGLE GUEST LOVVVEEEDDD the food, the venue and the service. We wanted to create an event that enable everyone to have fun (including the staff serving our guests) and we were able to achieve this using this establishment it. We initially called the centre to discuss its services, and given that it was 3.45pm our call was answered and we were offered to attend that afternoon. And we did. And the rest, they say, is history.