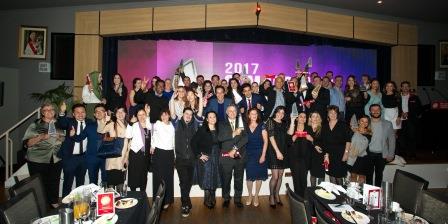 The Holroyd Centre are proud Winners of the Cumberland Local Business Awards 2017!
The Holroyd Centre pipped 51 other nominees to win the "Specialised Business" category at the 2017 Cumberland Local Business Awards. The Holroyd Centre, part of Cumberland Council, is a premium function and event centre located in the heart of Merrylands CBD.
Our boutique Function and Event Centre is a jewel located in the Merrylands CBD
When organising events we are very good at listening, recognising and identifying the cultural and individual needs of all our clients. We go out of our way to accommodate and be flexible to all cultures that are representative of our local area.
The Holroyd Centre plays host to a large variety of occasions including Wedding Ceremonies, Wedding Receptions, Birthday Parties, Anniversaries and other social occasions. We also specialise in Corporate Events with state of the art technology and exceptional service that delivers on Corporate requirements every time.
We have an amazing Events and Catering team that are professional, well-presented and serve superb meals. On top of all that we offer a stunning and beautiful venue to host special occasions and record long lasting memories.
At our core we continually adapt and learn, we strive to exceed expectations and provide service excellence. We live by our creed:
"Large enough to understand your needs, small enough to ensure they are met."
Dean Savetta, Venue Manager stated "We are so grateful and appreciate the support from all our valued clients, without their votes we would not have received the honour of Specialised Business Award Winner for the Cumberland Local Business Awards 2017."
For more information about the Holroyd Centre's services and venues please visit holroydcentre.com or phone the Events Team on 9840 9900